Predicting the 2021 flu season
This year, the term "twindemic" captures the overlap of the flu and COVID pandemic
The Centers for Disease Control and Prevention (CDC) established National Influenza Vaccination Week (NIVW) in 2005 to highlight the importance of continuing flu vaccination through the holiday season and beyond. Every year, it seems we deal with a devastating strain of the flu. This year, the term "twindemic" captures the overlap of the flu and COVID pandemic. With that said, only 48% of adults were vaccinated last year. Healthcare providers insist that this year, it is more important to get a flu shot than ever.
"I am cautiously optimistic that vaccination rates will be higher this season," states Dr. Brion Winston, a board-certified cardiologist at Capital Cardiology Associates. Along with his specialty as an interventional cardiologist, Dr. Winston also holds a Master of Public Health (MPH) from Columbia University. He has keenly observed the coordination and communication of federal, state, and local guidelines and pandemic response to keep the public safe. "Certainly what we are concerned about is the twindemic, that cases of both influenza and COVID present in the same person. That would be quite devastating." The flu, by itself, led to 400,000 hospitalizations and 22,000 deaths, according to the CDC estimates for 2019-2020.
What makes the flu dangerous for heart patients
The nation's leading public health expert, Dr. Anthony Fauci, proudly showed off his arm bandage, confirming that he had received his flu shot in September. During a press conference, Fauci proclaimed, "It's our personal responsibility to protect ourselves. But we also have a responsibility to protect the vulnerable around us, including young children, pregnant women, adults, 65 years of age or older and those with underlying chronic health conditions." For heart patients, this viral infection triggers an inflammation response to combat the flu, adding stress to the body, causing the heart worker harder. People with heart disease or who have had a stroke can experience difficulty breathing or shortness of breath, persistent pain or pressure in the chest or abdomen, dizziness, confusion, seizures, severe muscle pain, weakness, or worsening of chronic medical conditions. The other health issues that heart patients usually have comorbidities (like diabetes, kidney damage, or chronic obstructive pulmonary disease) that make older people more vulnerable to negative outcomes associated with the flu.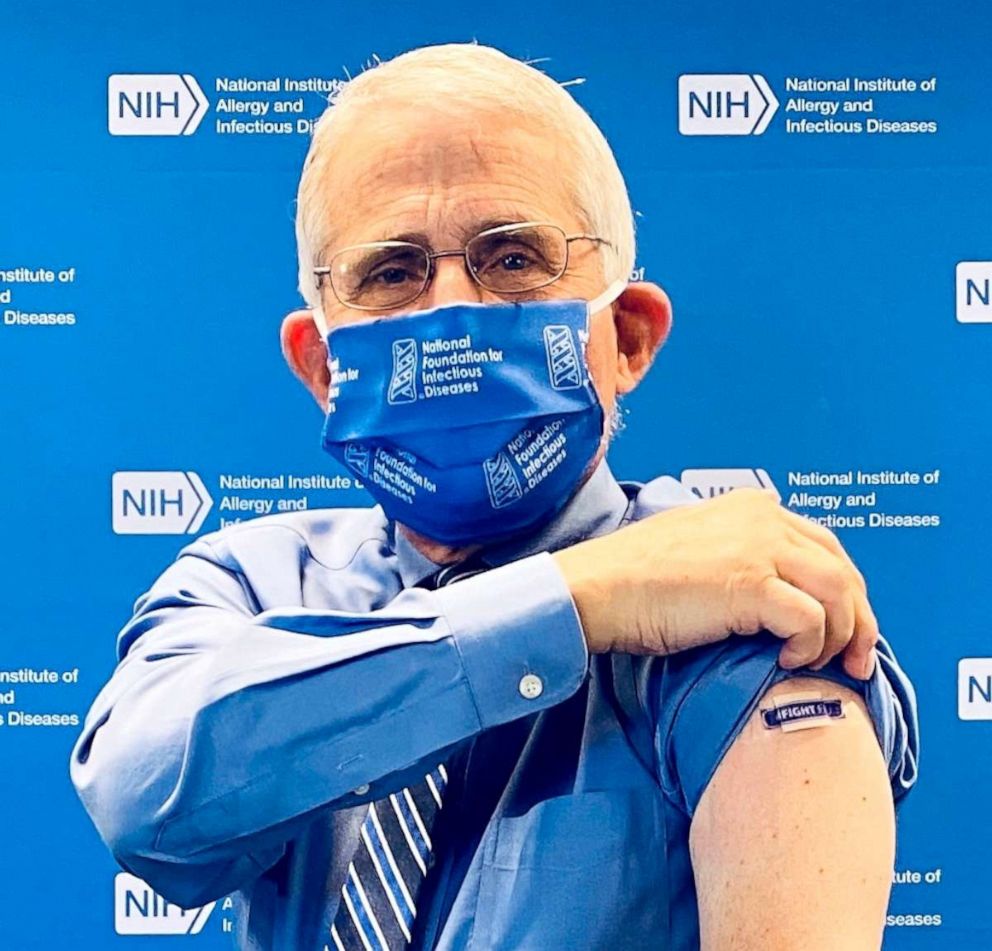 Photo of Dr. Anthony Fauci provided by the National Foundation for Infectious Diseases
Dr. Winston added that while the vaccine is quite effective, it's not a guarantee that you will not contract the virus. "It does reduce cases by almost 50% for those who receive the shot. That is quite remarkable. For those that do get the flu, the general rule is a much more mild case despite the vaccination," adds Winston. The National Foundation for Infectious Diseases reported that flu vaccines prevented 7.5 million flu cases, 3.7 million flu-associated medical visits, 105,000 flu hospitalizations, and 6,300 flu deaths last year. The flu shot has proven to lower cardiac arrest rates in heart patients, reduce admissions for stroke or heart failure, and reduce death rates in adults with Type 2 diabetes. For those who have received the vaccine and still get infected, their body can better fight the flu, lessening the intensity of symptoms and shortening the duration of illness. Plus, for Americans with a health insurance plan (private or public), your provider will cover the cost of the flu shot entirely. Outside of visiting your doctor, there are also more options, like pharmacies allowing you to schedule an appointment.
The flu forecast for 2021
The New York Department of Health has a flu tracker on their website, updated weekly on Thursday evening. Last year's flu season (2018-2019) was the longest in a decade, lasting 21 weeks. It wasn't as brutal with illnesses, hospitalizations, and deaths as previous years, but for those who visited a Capital Region hospital in mid-February through April, it seemed like waiting rooms and patient areas were filled with people seeking relief from their infection. A predictor for the American flu season is the largest continent in the Southern Hemisphere: Australia. The flu season south of the equator generally runs from April to October, peaking in August. Health officials and epidemiologists monitoring Australia's season this year noted two factors: unusually low numbers of cases and an unprecedented demand for flu shots. Australia reported just over 21,000 confirmed flu cases and administered a record 18 million flu vaccines this year.
Experts are encouraged with Australia's diminished season but cautioned that what happens in other parts of the world doesn't guarantee success in the United States. "How we can predict the effectiveness of the flu vaccine six months in advance is impressive. Our flu vaccine is based on two antigens; they look at the circulating flu levels in Asia and North America. From that, they come up with a cocktail, for lack of a better term, of antigens that will elicit the antibody response. It's a probability model in terms of predicting which strain we are likely to see," noted Winston. There is also the theory that more people practicing COVID guidelines (wearing a mask, social distancing, and frequent hand washing) could sustain the flu virus's spreading. "I am impressed with the way that New Yorkers have responded to the pandemic," said Winston.
Be smart and stay safe
Influenza pandemics have been recorded for at least 500 years. Historians believe that the flu has likely been around for millennia. The first report was from Hippocrates, who described a highly contagious disease from northern Greece around 410 BC. Even with advances in science and technology in the 21st century, there are limits to protecting humans from the flu virus. The major problem is that the virus mutates, making it difficult to develop a standard cure to eradicate influenza. To beat the flu season, we must remain smarter than the virus. Avoiding unnecessary risks like large gatherings, remembering to wash our hands after touching public surfaces, and this year, wearing a mask when we are within six feet of others lower infection risks from the flu and COVID. We also need to be aware of our health and the health of those in our home. "We had scenarios in the spring (patients not aware of COVID symptoms — see emergency warning signs*); unfortunately, we will continue to see this. Now with the availability of rapid testing for COVID, we already have rapid testing for flu; I'm hoping we can avoid the problem of uncertainty. There is an amount of overlap between the symptoms, quite a bit; there is that possibility of having severe flu symptoms, like shortness of breath or extreme fatigue, especially shortness of breath, this warrants immediate medical attention," added Winston. Bottom line: if you display any of the warning signs, seek emergency medical care immediately!
When to seek emergency medical attention
Look for emergency warning signs* for COVID-19. If someone is showing any of these signs, seek emergency medical care immediately:

› Trouble breathing
› Persistent pain or pressure in the chest
› New confusion
› Inability to wake or stay awake
› Bluish lips or face
*This list is not all possible symptoms. Please call your medical provider for any other symptoms that are severe or concerning to you.