Military Medical Service
Profiling medical professionals with a desire to serve our country
Capital Cardiology Associates proudly salutes all servicemen and women in our Armed Forces.
On the photo board in the lobby of our Corporate Woods location, there is one physician's image that will catch your eye. As you scan through the accomplished faces of our board certified cardiologists, the pride on his face and the gleam of his military uniform are hard to miss. On a recent episode of HeartTalk presented by Capital Cardiology Associates, Dr. Kevin Woods joined me to discuss his unique distinction of being a decorated military doctor. Prior to joining Capital Cardiology he was a Lieutenant Colonel in the U.S. Army, a Staff Cardiologist and Assistant Professor of Medicine at Walter Reed National Military Medical Center in Washington, DC. His service record also includes a deployment in Operation Enduring Freedom. We talked about his military career, his love for our country, his passion to save lives, and his desire to serve.
The United States Army Medical Service Corps began when the Continental Congress recruited doctors to serve the army in 1775. Their service continued as the Civil War Ambulance Corps. In WWI, the Sanitary Corps was formed in 1917. Within in a year the Corps expanded to nearly 3,000 officers. WWII saw the creation of the Medical Administrative Corps (MAC) which had over 22,000 officers by 1945. In 1947, the Medical Service Corps was established and to this day, serves at the forefront of the Army Medical Department's humanitarian role in national defense.
A Desire to Serve
"My route to become a physician is different than some but similar to many at the same time," Woods explained. "I didn't know that I wanted to study medicine until later in my college career. I attended the United States Military Academy at West Point with a desire to serve our country. I always knew I wanted to attend West Point and have a military career. It wasn't until my third year when I was turned on to anatomy and physiology. After taking one course I was fascinated and decided that medicine is what I wanted to do."
Dr. Woods pointed out that the Army needs doctors and offers generous financial assistance to attract them. "I went to medical school at Boston University on a military scholarship after graduating from West Point. The military offers a great program to receive a world-class education for undergraduate and medical school." The American Medical Association estimates the average cost of four years of medical school to be more than $250,000 and the Army offers aid to pay for the whole package. The centerpiece of the military's education benefits is the GI Bill, which in 1944 became the law that provided veterans of WWII funds for college education, unemployment insurance, and housing. In 2012, the Post-9/11 GI Bill coverage, accounted for 52% of completed Bachelor's degree of military beneficiaries. Read more about the education benefits offered to military service members, here.
There is also the option of serve your country in the field of medicine. Woods explained, "many people don't know that we have our Medical Corps, that the men and women in our armed service need to taken care of as well, including our veterans and military families." Currently, the Medical Corps consists of over 4,400 active duty physicians representing all the specialties and subspecialties of civilian medicine. About 65 percent of Army doctors are reserve officers, serving part-time when not called to active duty. The rest opt for a full-time military career. Almost all medical specialties are represented. You'll also find opportunities to do research, to teach, or to work in medical administration.
Initially Dr. Woods had an interest in pediatrics. "After my first rotation I thought I was going to be a pediatrician, I love working with kids." Eventually internal medicine and cardiology captured his passion to help others. "I found it fascinating taking care of those patients. The procedures involved, the opportunities for research and disease prevention. I saw the ability to make a difference! What we did as providers mattered; we could reduce the risk of patients' complications with the ultimate goal of preventing heart disease to develop."
After medical school, Dr. Woods' medical career continued at Walter Reed National Military Medical Center in Washington, DC where he was awarded the distinction of Master Clinician. While at Walter Reed, Woods' noted, "there were opportunities to perform missions overseas, traveling to Hawaii, Germany, and in Afghanistan serving in Operation Enduring Freedom." All said, Dr. Woods' invested almost 25 years in his military career. "I still have my Reserves affiliation with some opportunities that I may look into in the future. Today, I enjoy my medical career at Capital Cardiology Associates working with my patients and colleagues."
Looking back at his education at West Point, Dr. Woods had a much different college experience than typical pre-med students. "There is mandatory military training requirements at West Point. I did basic training, advanced field training, I went to Airborne school to jump out of airplanes. Did some overseas time in Korea when I was there. You still get all of the leadership training while serving in the Medical Corps just like any other aspect of the military." I thought back to my days as an undergraduate, my civilian college career focused on classes that fit around my work and social schedule. My college experience was much different than Dr. Woods'. "There are the same physical requirements: competing in intramural sports, participating in drills." We also talked about how the class schedules at West Point are not like the courses I took in at college. "Really, you do all of the military training it just comes down to when you have electives from an academic standpoint, you gear them more towards the medical field, instead of doing advance training in Infantry, Armor, or Aviation. I went down to Walter Reed to hone my medical skills to ensure that I was building on my knowledge." I began to understand that cadets attend West Point with the same focus needed to have a successful military career.
We Salute You
Capital Cardiology Associates Salutes Our Veterans
From the Revolutionary War to present day service members, Capital Cardiology Associates proudly salutes our Veterans. Read more about our partnership with the Troy Military Banners as well as the profiles of our employees who have served in our Armed Forces.
SEE MORE
Military Physicians
Our conversation moved to the differences between civilian and military physicians. There are countless TV shows and movies that feature doctors as main characters. ER, Grey's Anatomy, and St. Elsewhere, all prime time medical dramas that dominated TV viewing for the last 4 decades. M*A*S*H was also one of the highest rated TV shows of the 70's and 80's; one of the only programs to spotlight a team of military doctors and nurses. Dr. Woods acknowledged that most Americans don't clearly understand the role of doctors in our military. "We don't just serve stateside and care for our healthy service men and women at home. We are asked to do things that civilian doctors and providers are not — that goes for all of healthcare professionals in the military." Woods described that while he was stationed stateside, he would see a mix of patients that were active duty, veterans, and their families. At home his focus would also be on his specialty: cardiology.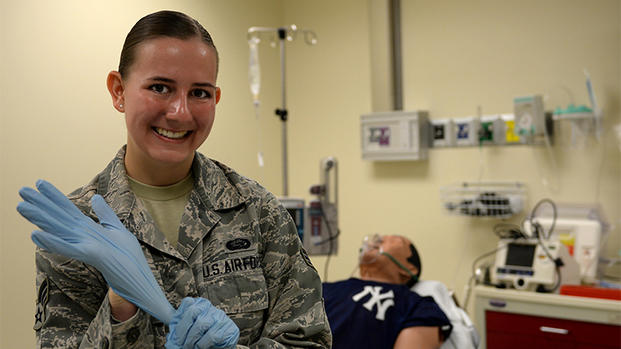 When he was deployed, Lt. Colonel Woods' role would change from cardiologist to soldier. He recalled one of his overseas missions. "I was stationed on a forward operating base that was on the Pakistan border where there are no other doctors. I deployed as a battalion surgeon. I saw more trauma patients and sick calls. I had a couple of physicians assistants and young medics," noted Woods. The image he described was a much different working situation than what patients experience at Capital Cardiology Associates. As the only medical resource in the area, his team was also asked to care for the local population. "We also worked with the indigenous population as well, trying to promote a better health care system, taking care of the locals with medical issues and trauma." For his service in Afghanistan, Dr. Woods was awarded the Bronze Star.
Opportunity to Serve
There are more than 800 different types of jobs available in the various branches of the United States Armed Forces. As a parent, it was hard for me to believe that medicine was one that could be overlooked for consideration by students today. I found over 100 openings while searching for "military medical careers." That's just in the Albany area! Dr. Woods' advice for young people considering a military medical career, "there are many different opportunities and stages in your medical career to get involved with the military. You could attend West Point, if you desire. If your goal is to be a medical doctor you can get involved after you finish college and attend a military medical school, we have one down in Bethesda on the grounds of Walter Reed. On occasion we have people who join up after they have completed civilian medical school."
I asked Dr. Woods, looking back on his 24 years of service which includes 15 years of active duty, if he ever envisioned a different life, perhaps one taking a different path to medicine. "Honestly, I really don't," he said. "It was fascinating to me how everything came together; I wanted to go to West Point. I only applied to one other school as a backup! I really didn't look anything else. At West Point, I discovered that I wanted to do internal medicine, that I wanted to learn more and study at Walter Reed. My career path has been very rewarding for me. If I looked back I would do it again in a heartbeat!"
Written by: Michael Arce, host of HeartTalk presented by Capital Cardiology Associates. HeartTalk airs Sunday at 1PM on NewsRadio WGY. You can listen anytime on iHeartRadio.
Any medical information published on this website is not intended as a substitute for informed medical advice and you should not take any action before consulting with a healthcare professional.