For adults, running offers unmatched health benefits. How can we recapture the joy in running later in life?
Almost 45 years ago, Thaddeus Kostrubala, MD, a psychiatrist, wrote his bestselling book, "The Joy of Running." Dr. Kostrubala was one of the first medical professionals in the mid-1970s to investigate the benefits of long-distance running, specifically its effect on a person's mental and physical health. He began running in San Diego in his early 40s after realizing that his weight, family history, and a lifestyle of limited exercise put him at high risk for a heart attack. After finishing his 3-mile run, at a slow pace, Dr. Kostrubala noted that he was joyful. As he continued running, he identified that reaching a cardiovascular rate of 75-80 percent around the 45-minute point in a distance run three times a week, brought the most health benefits. For almost 45 years, Dr. Kostrubala was called "The Running Doctor" or "The Running Psychiatrist" until his passing on September 4, 2020.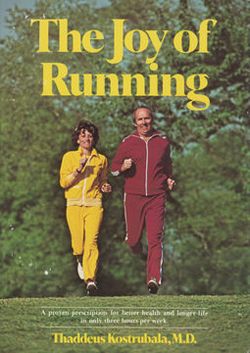 One point that Dr. Kostrubala made in one of his final interviews with Runner's World was that walking, jogging, and running are activities that date back to the earliest humans, who relied on their feet to travel, some 4-million years ago. That thought came to mind as I watched my nephews chase each other around the backyard during a family cookout this past summer. They were laughing, loudly, as their little legs carried them around the yard. When we were younger, running was fun. There was such freedom found in our youth as we ran as fast as possible. When did we lose that joy? Is it possible to recapture it later in life?
Joy in running became personal as I entered my mid-30s for similar reasons as Dr. Kostrubala. I have a family history of diabetes and stroke. After an annual visit with my doctor, along with some changes to my diet, I needed to find a daily form of exercise that could help manage my "bad" cholesterol numbers. I started by jogging around my neighborhood on Saturday or Sunday mornings. Those jogs gradually led to slow runs where distance and my speed increased. After a year, I entered my first 5K. After that event, I was hooked! I reached out to Charles Woodruff, a former collegiate runner at the University of Connecticut, who has been coaching runners of all abilities since 1994. Woodruff also owns the Fleet Feet running stores in Malta and Albany. He joined me on a recent episode of HeartTalk, presented by Capital Cardiology Associates, as we discussed the recent spike in those who have rediscovered the joy in running.
Starting over
Just as every run has a beginning, so does every runner. The image of a marathon or long-distance runner may come to mind, but if you have a routine of going out three to four times or log a few miles every week, you are a runner. As Coach Woodruff outlined, the most important component in any running routine is rest. "We don't rest enough; we become a slave to miles or how much we are doing. We need to realize that our bodies are capable of adapting to just about anything. Running is a very progressive sport. You want to approach it gradually." Start easy is the best advice he offers. "If a friend got you into running, you might not be where they are, and you shouldn't be trying to keep up with them. Running is a very individual sport." If your last distance run was the mile in high school, your body needs at least 12 weeks to adjust. The best beginner plan starts with 30 minutes walks that build up to 30 minutes of running.
Once you start your running plan, be ready for changes. I didn't fully embrace an athlete's mindset until this year when I began training to run my first 10K. My "weekly" runs became more structured. Instead of getting a run or two during the week and one on the weekend, I formed a plan that increased in time/distance runs with set rest and active rest days. I learned early on how important rest is, especially the days following a five-mile run! Coach Woodruff noted that aches are normal initially — as long as they don't develop into pain that lasts for more than a day or two. I also realized that proper running gear, hydrating after a run, getting enough protein in my diet, and quality sleep at night are the building blocks necessary for success.
Coach Woodruff's advice
"When we form our training groups, one of the things we emphasize all of the time is that in a group, you are part of a community. Even when running with other people, you need to be doing this for yourself. You are going to be successful when you take the gifts and talents that you already have and maximize them. Don't worry about being fast or being the slowest person in the group. If you are taking what you have and working hard to make it better – that's where you will find success."
WHAT TO WEAR
"The five things you need to have hanging in your closest for winter running: a good base layer, briefs that are not cotton, hat and gloves, element jacket, shoes, and socks. Come in and talk with us at Fleet Feet and we will be happy to point you in the right direction for gear."
SAFETY FIRST
"Make sure you are wearing apparel that has reflective material on your moving parts, like your arms and legs. This helps drivers see you more clearly. Make sure you are running on the left-hand side of the road against traffic. Don't run with your back to the road."
How running improves your heart health
For adults, running offers unmatched health benefits. It lowers your risk of heart attack or stroke. A massive study in 2014 on running and heart health showed that it's good for your bones, blood pressure, and brain. This study covered all forms of running: slow, fast, short, and long. As you run, the exercise causes your heart to increase blood flow, training the heart to pump more efficiently. We often don't think of the heart as a muscle, but it is. Running increases the myocardium (heart muscle), strengthening the heart's ability to pump blood (ejection fraction) through your vascular system. I never considered how my heart functions while watching TV on my couch, but I think about it during every run. Every stride is making me stronger in ways I cannot see.
Another point I shared with Coach Woodruff was how, during a run, I have some of my best thoughts. He pointed to science, how during exercise, blood flow improves, sending more oxygen through our vascular system, and bringing fresh energy to our brains. While we are listening to music, focusing on the road ahead, or enjoying the scenery, the neurons in part our brain that processes critical thinking and memory are highly active. Some research has suggested that aerobic exercise improves cognitive function, aiding in boosting our memory. The biological effects of running provide a fresh supply of nutrients to the brain, enhancing the brain function all aid in a more "hyper-alert" mind, a by-product that leads runners to say, "I do my best thinking while running!"
Joy in running
In one of his final interviews with Runner's World, Dr. Kostrubala opened up on when he found his joy in running. It happened after he completed his first 3 miles at a slow pace. For him, the joy replaced depression, which motivated him to pursue greater distances, eventually finishing marathons. In 2011, he shared that when leukemia hit, his chemotherapy made him weak. His runs downgraded to walks, which he could do for about half an hour until he had to use a wheelchair. For almost sixty years, Dr. Kostrubala advocated that running can save your life — and your soul.
I thought about Dr. Kostrubala's words during my conversation with Charles Woodruff. I had found my joy in running. This may sound odd, but I was excited to wake up before my alarm at 5:30 on summer mornings to go for a run. Why? Because that time is my time. Every beginning ignited a sense of purpose; every finish brought a feeling of accomplishment. Coach Woodruff is a morning runner; he's logged thousands of miles before sunrise. "There is something magical in seeing the sun coming up, seeing the animals, this feeling that you own the world. There are no distractions. The world is waking up, and you can hear the sound of your feet. It's the perfect way to start the day."
Written by Michael Arce, host of HeartTalk, presented by Capital Cardiology Associates
I thought about Dr. Kostrubala's words during my conversation with Charles Woodruff. I had found my joy in running. This may sound odd, but I was excited to wake up before my alarm at 5:30 on summer mornings to go for a run. Why? Because that time is my time. Every beginning ignited a sense of purpose; every finish brought a feeling of accomplishment. Coach Woodruff is a morning runner; he's logged thousands of miles before sunrise. "There is something magical in seeing the sun coming up, seeing the animals, this feeling that you own the world. There are no distractions. The world is waking up, and you can hear the sound of your feet. It's the perfect way to start the day."
Written by Michael Arce, host of HeartTalk, presented by Capital Cardiology Associates