HEART HEALTH
3 Ways to Boost Your Heart Health
with Fruits and Vegetables
Three healthy tips that taste great
Fruits and vegetables play a key role in heart health. The trick is, how do we get the recommended five servings a day (about two-and-a-half cups) in our daily diet? Better yet, if we could squeeze in 10 servings a day (doubling our intake), we could benefit from a lower risk of cardiovascular diseases by 28% and premature death by 31%, according to a new study published by the
International Journal of Epidemiology
.
First, let's target on the power foods highlighted in the findings that offer the greatest nutritional benefits: apples, pears, oranges and other citrus fruits, green leafy vegetables, cruciferous vegetables (such as broccoli, cabbage, and cauliflower), and green and yellow vegetables (such as green beans, carrots, and peppers).
Tip 1: Boost Breakfast
Omelets are a great place to add broccoli and peppers. Substitute your chopped veggies for ham and add some mushrooms to give your omelets a savory taste. Apples and oranges are great "grab and go" breakfast items. Fall and Spring are the perfect time of year to throw one in your bag, as you leave for work, to snack on in the office. Swapping that afternoon can of Coke for a juicy pear is one more healthy step to hitting your fruit goal.
Tip 2: Double down on Veggies
Most recipes call for a certain amount of vegetables – double the amount! In soups and salads, adding more than the called for serving will not ruin the recipe. It will add more flavor, pump up your nutritional value, add to your daily vegetable service goal, and give you a meal with more substance. A half-cup​ of chopped vegetables and a whole cup of dark leafy greens is another serving!
Your lunch sandwiches will enjoy a break from a routine. Turkey with cheese tastes so much better with sliced apples, cucumbers, sprouts, and spinach. A half-cup of these add-ons score you another serving toward your goal!
You can pile broccoli and peppers on pizza. Casseroles call for more carrots, cauliflower, and peppers. Puree cooked cauliflower, winter squash, or red peppers can be stirred into sauces, replace mashed potatoes, or add some depth to marinara sauces. In every dish, there is always room to toss in an extra handful of our power veggies.
Tip 3: Make Monday your make-ahead start day
No one wants to come from work on Monday and make dinner. Use the weekend as your time to prep and sneak more fruits and vegetables in your diet. A spring/summer recipe that is popular with Capital Region home cooks is a delicious fig salad that can be prepped in less than fifteen minutes!
Fig, Prosciutto and Burrata Cheese Salad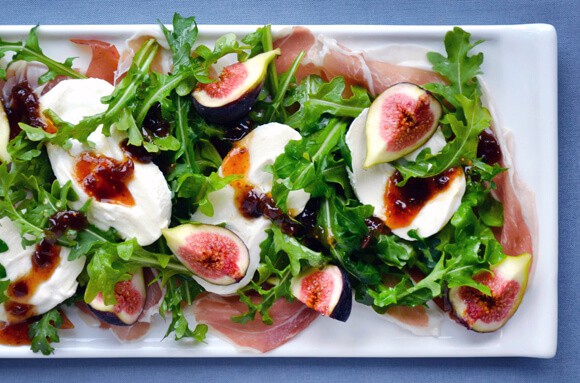 Ingredients:
1/4 cup of store-bought fig compost or jam
8 slices of prosciutto
(you can roll the prosciutto up and slice it to make it easier to eat)
4 cups of arugula
2 cups quartered fresh figs
8 ounces burrata cheese
Olive oil
Directions:
Combine the fig compote with 1 tablespoon water in a small saucepan over medium-low heat. Cook, whisking occasionally, until warm and thinned slightly.
Place two slices of prosciutto on each of four serving plates.
In a medium bowl, toss the arugula with balsamic vinegar and olive oil, to taste. Divide the dressed arugula among the four plates, placing it atop the prosciutto.
Carefully slice the burrata and divide it among the four plates. Scatter the quartered fresh figs among the plates then drizzle each salad with the warmed compote.
Fruits and vegetables contain many healthful nutrients, especially fiber, which seems to help lower cholesterol and blood pressure and improve blood vessel function. Make sure to talk with your doctor for more ideas on how to improve your nutritional health and to answer your questions.
Written by Michael Arce, Marketing Coordinator, Capital Cardiology Associates
Any medical information published on this website is not intended as a substitute for informed medical advice, and you should not take any action before consulting with a healthcare professional.